How to Backup Hard Drive to External Hard Drive
Most of us never think about losing our important data until it actually happens and we're caught without a backup. At some point in our lives, all of us lose data. Sometimes, we accidentally drop the hard drive or spill water on it. Ransomware could also possibly hold your files hostage or a software bug could corrupt your files. In the worst scenario, your computer or laptop could be burnt, misplaced, damaged, or even stolen. In all these possible situations, users end up losing their precious data if they're not regularly backing up their files. Since your computer's hard drive could fail at any moment, it is advised to take regular backups. Whether you accidentally delete a file or your hard drive suffers a crash, an up-to-date backup can save you from unexpected data loss. However, even the tech-savvy people often neglect backing up their hard drives because creating and managing data backups is considered to be cumbersome.
What a Data Backup Is?
To protect data from potential loss, a backup is created which is simply a copy of the files and documents stored on your hard drive to another location. All your important documents, music, photos, or other files can be easily copied to another data storage device so that it can be recovered in the event of hard drive failure and resultant data loss. So, your computer's backup means maintaining an exact copy of all files you create. However, this doesn't mean creating multiple copies of original files on the same hard drive, at once. There is no point in making 3 copies of a document on your computer because if your internal hard drive crashes, you will still lose all three. Data backup is a repetitive process that involves copying files at another hard drive or any other media. Whether you're using a manual or automated backup option, if the process is not repeated regularly then new or changed files will not be saved or archived.
How to Create Data Backup?
Backups are extremely easy to maintain and manage. Computer users have plenteous options to maintain backups. There are multiple applications, platforms, and storage media to create, maintain, and manage backups easily. You may choose a manual or automated backup option but the best backup solution will automatically perform backups once the system is set up.
The data from your computer's hard drive can be preserved on other hard drives, other external storage devices like USB flash drives or external hard drives, or online cloud storage accounts.
Now as you know there are numerous options to backup files, you might wonder which one is right for you. Certainly, there are many good backup programs, but one of the best options is Windows built-in tools that automatically save copies of your data to an external hard drive or a shared network location. Both Windows and Mac OS have great built-in backup utilities that can protect your files from accidental loss by creating a backup on an external hard drive. So, let's find out how to easily back up your hard drive on an external hard drive and then restore data from there.
How to Backup Hard Drive to External Hard Drive?
Backing up the hard drive to an external hard drive will keep your files safe if anything happens to your computer. For this, you need to first buy a good external hard drive that can easily accommodate all your data. You may get Western Digital, Seagate, or any other drive but make sure to invest in a product that best suits your storage needs. You may get an external hard drive that has the same capacity as your computer's internal hard drive. This will allow you to mirror your internal hard drive to your external drive. However, if you intend to make regular backups, then look for an external drive with twice the capacity of your internal drive. Once you get the right drive, follow some simple steps to backup your computer's hard drive to your external hard drive.
Turn on Your Computer
To make copies of your music, movies, films, and other data files, first you need to turn on your computer and connect the external hard drive. Make sure your USB external drive is compatible with the USB port on your computer. You may use your backup drive for cloning the entire drive or to create an archive of your changed/updated files. Unlike mirroring, the archive doesn't clone the entire drive but only creates incremental backups as you work.
Backup According to Your Operating System
Your computer's built-in backup features will allow you to back up your files. When you connect your external drive, the Mac or Windows operating systems will automatically recognize your USB external drive. Your system will ask you if you want to use the external drive as a backup device. You will get an option to either mirror the entire drive or choose particular files to back up. When backing up for the first, it's easier to simply mirror the entire drive. Once you back up all the existing data, you may back up only new or updated files in the future. If you're using Windows 7, then Windows Backup will allow you to copy files. Windows 10 and 8 users have access to the File History feature. Mac users, on the other hand, can use Time Machine. These features can be used by connecting the drive to the computer for backup.
Windows' Built-in Backup Tools
You can backup your data manually by copying them directly to an external hard drive. Another option is using Windows' backup tools that are similar to online backup services. Windows allow its users to set up backup once and get automatic and continuous backups of their files. The backup utility of Windows 7 is known as Backup and Restore. Windows 8 has divided this backup tool into two parts: File History and a system image tool.
The default option of Windows 7 will back up and Restore data once a month, while File History on Windows 8 works every hour. Windows also allow users to adjust their backup settings. This means that you can choose how often you need backup. The "Advanced settings" of Windows 8 and the "Change schedule" option in Windows 7 can be used to adjust how often you want the backup to run.
Now, let's check out how to backup data to an external drive using Windows backup.
1. Get a backup USB external hard drive and plug it in the computer. If you don't get a backup prompt, you can just go to the Start Menu, Search for "backup" in Windows to find the backup tool, and click on "Backup and Restore." To start the process, click on the "Set up backup" link in Backup and Restore. If you're using Windows 8, you can simply search for "backup" on the start screen and then choose "Save backup copies of your files with File History." Now select the "Turn on" button in File History.
2. The next step is to choose the location for your backups. Since you've already connected a USB drive, Windows will automatically recognize the connected drive. Now you need to select the backup external drive. Windows 7 users should click the "Save on a network…" button to choose a specific drive, while for Windows 8, click on the "Select drive" link in the menu at the left.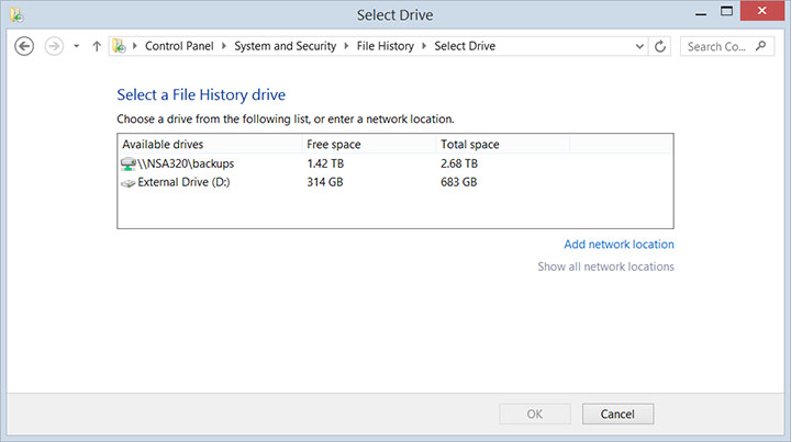 3. Finally, a user needs to select the folders and files to back up. Windows users have the option to either allowWindows to perform backup or select their own folders. Unless you want to select only specific folders, you may allow Windows to choose. Your system will automatically create a system image and save the files in your libraries, desktop, and default Windows folders. The File History feature of Windows 8 will also automatically save files in your Desktop, Libraries, Contacts, and OneDrive folders. Once the needed data is backed up, you need to click the save your settings button, run the backup, and you're done. Whenever you need to restore a lost file, go to the Start Menu, type backup, and select "Backup and Restore".
Mac Backup Utility
If you use a Mac, you can use Time Machine, which will run every hour and check for changes. The easy to use Time Machine is useful for backing up, as well as restoring files. This system automatically creates a backup of your entire hard drive when running.
To backup data from your hard drive to an external drive, plug in your drive. Your Mac system will ask you if you want to use that drive as a backup disk. Select the "Use as Backup Disk" option to start the backup process. In case your operating system does not prompt the backup option, then Mac users should go to System Preferences, open the Time Machine option, click on "Select Backup Disk" and choose the external drive. Keep your computer turned to take your first backup. To restore a file all you need to do is simply click on the Time Machine option and select "Enter Time Machine" to search through your old backups.
How to Create a Full-System Backup of Your Computer
The Windows backup tools are used to make copies of the most important data such as documents, photos, and videos. However, some users may also need a backup of other programs like system settings, applications, and all other files. In this case, users need to create a system image of their computer which is nothing but an exact copy of everything on your hard drive. This helps in restoring everything back to normal if the hard drive or entire computer crashes. However, unlike the Windows backup tools, system image backups can't be scheduled for automatic backups. Also, it allows users to have only one system image on a drive at a time.
To create a complete backup of your hard drive, you need to first type "backup" in the search box and click on the "Create a system image" in Windows 7 and "System Image Backup" in Windows 8. Now select your backup external hard drive and click the "Start backup" button to create the system image.