Is the G-Tech G-Drive EV ATC for you?
Recently rated at four out of five stars by CNET, the G-Tech G-Drive EV ATC with Thunderbolt is excellent data storage solution, provided you are the particular consumer for which the product is tailored.
The G-Drive EV ATC is quick, extremely durable, and relatively flexible in that it can work along side USB 3.0 products as well as Thunderbolt technology. That said, it's not for everyone. Its added durability comes with a hefty price, for example, and it has a limited storage capacity of 1 TB.
How durable is it, exactly? The drive's marketing team claims that the drive is tough enough to handle drops from up to 6 and a half feet and is engineered specifically to function in wet,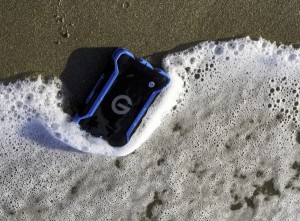 rough and dirty work environments. This makes it ideal for nature and extreme sports photographer and videographers, but may not be necessary or worth the $150 price in an IT data storage environment.
Consumers may also have some reservations about the G-Drive EV ATC's large and bulky dimensions. It measures at 6.46 x 4.25 x 1.2 inches due largely in part to the large water-tight, shock/drop-resistant outer shell that protects the data inside. Add that to the Thunderbolt cable wrapped around this G-Tech product's side along with its protective lid and you've got a pretty awkwardly shaped drive that you're not likely to comfortably slide into your pocket. That said, the ATC manages to carry out its heavy duty data protection while remaining relatively light; the 1 TB drive weighs only .82 pounds, but you can practically toss it around your room and even drop it into your flooded kitchen sink without sacrificing any of your saved information.
The G-Drive EV ATC is inaccessible only to water, dust and dirt- buyers will find that the product works right out of the box. It requires no software or setup process besides plugging G-Tech's toughest drive into a computer. The drives are preformatted in HFS+ for Mac, but they can be reformatted to work with Windows or other operating systems with minimal finagling. Regardless of the drive being utilized, the ATC derives its power from a computer's bus and does not necessitate a separate power adapter. The drive operates under the same guidelines, turning itself off when the computer to which its attached enters sleep mode or is powered off, and turning itself back on when the computer powers on again.
As for the performance of G-Tech's G-Drive EV ATC, it's pretty impressive considering the drive's clumsy outward appearance. Using Thunderbolt, the drive maintained a copy speed of 135MB/s (writing) and 124MB/s (reading). That's extremely speedy for a hard-drive-based portable drive and relatively competitive even in the realm of solid-state storage drives. To put it in perspective, at these speeds you could transfer a full feature high-definition movie (usually amounting to around 10GB of storage space) to your G-Drive EV ATC in around 80 seconds.
The G-Drive performs significantly slower via its USB 3.0, but it remains a competitive drive with a writing speed of 119MB/s and a reading speed of 139MB/s. That means that same 10GB of feature film would transfer to the drive in around 90 seconds or less. The drive even works with USB 2.0, a true testement to the technology's flexibility, though because USB 2.0 standards the transfer rate will top out at around 30MB/s.
In conclusion, these stats combined with the $150 price ensure that G-Tech's G-Drive EV ATC only appeals to particular members of the data storage market place. Namely, users with little more than 1 TB of data to store and a whole lot of accidental hard drive destruction risks to mitigate, either due to adventurous lifestyles or overall clumsiness. That said, it's a tremendous relief to me that G-Tech is finally making storage drives for people who generally can't have nice things. In a rare event of your G-Technology hard drive failure, all is not lost as we had recovered data from a number of G-Tech hard drives.