Clickfree Data Recovery
At Platinum Data Recovery, we strive to protect your most valuable asset- Your Data! If your Clickfree hard drive has suffered data loss due to physical or logical damage, then our team can provide complete Clickfree data recovery services. When you choose us for your Clickfree device data recovery, you get peace of mind knowing that your data is in safe hands. Our data recovery engineers specialize in handling all types of storage media. We have been offering impeccable data recovery services for several years. Whether it's a physically damaged external hard drive, corrupted memory card, or dead flash drive, we can tackle all cases of data recovery with ease and confidence.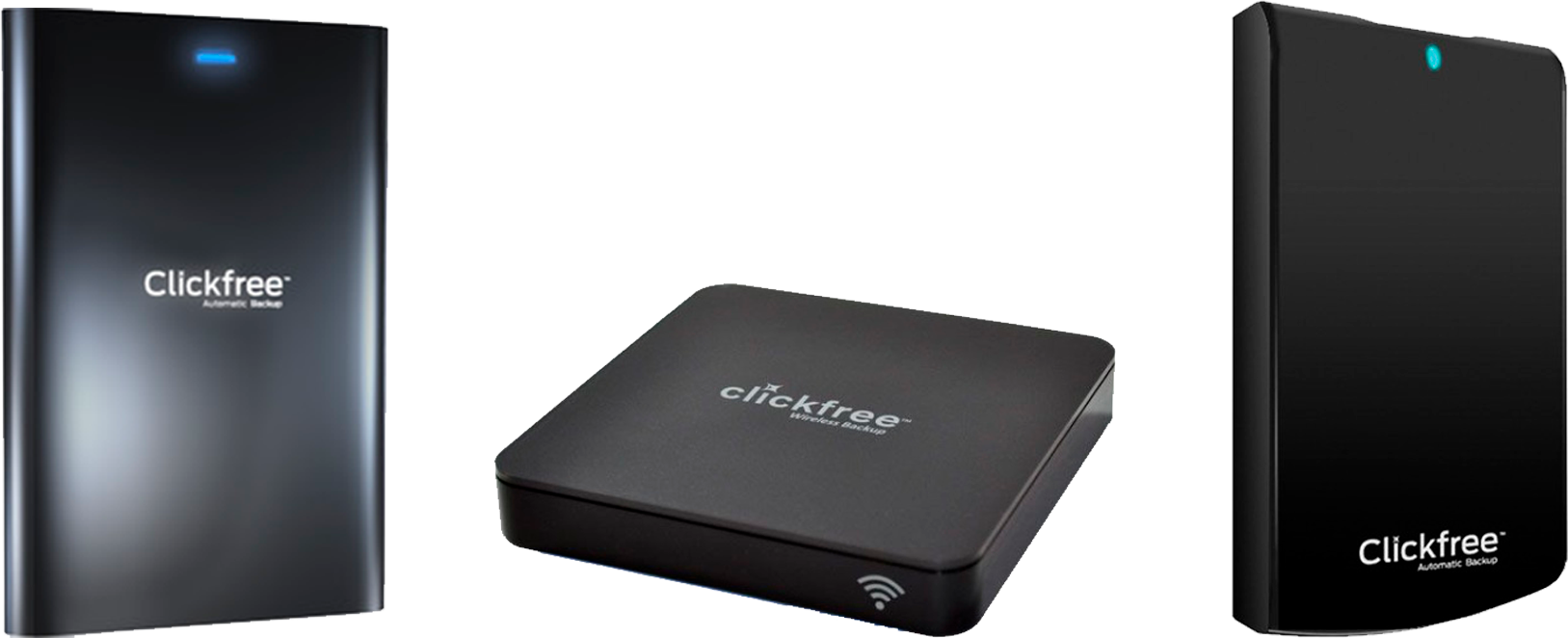 Clickfree Products we work with include, but are not limited to:
• Clickfree Automatic Backup Traveler Flash Drive FL320
• Clickfree Automatic Backup C2 Portable External Hard Drive 527B3
• Clickfree External 225
• Clickfree External 325
• Clickfree External 525
• Clickfree External HD801
• Clickfree C1
• Clickfree C2 & C2 Portable
• Clickfree C2w Wireless
• Clickfree C2N Network
• Clickfree C6 & C6 Portable
Common Clickfree Problems
Clickfree drives can experience both logical and physical failures. Logical failures could include backing up malicious software, accidentally deleting files or formatting the drive. Clickfree offers both HDDs and SSDs, meaning that the symptoms may not be the same for each device. HDD's can typically make noises such as clicking, ticking or buzzing. Unfortunately, SSD's simply stop booting up or mounting. Either way, if you hear any unusual noises coming from your drive, shut off the device immediately. Leaving it or turning it back on cannot only damage the drive further, but can make the recovery process much more difficult.
Why Choose Us?
Regardless of the failure, our professionals here at Platinum Data Recovery will do everything they can restore your data! Our success rate is considered to be the highest in the industry, with thousands of successful hard drive recovery projects completed. We have all of the necessary tools, including an ISO 5 Class 100 Certified clean room on site, so that we may open your drives in a safe and secure environment. Our engineers work as a team to recover as much of your data as quickly as possible. We'll even recycle the damaged hard drive for you. Don't put your precious data at risk. Call Platinum Data Recovery!

About Clickfree
Clickfree is a storage and backup solutions company located in Toronto, Canada. A majority of the company's leadership has come from Logitech. For their products, they developed an "Easy Run" feature that automatically backs up your data as soon as it's plugged in, making it incredibly user friendly. In addition to their hard drives, they also sell personal, home, and small business backup software and provide cloud services. The software is currently only compatible with Windows OS.
Our clients
Conan O'Brien Team Coco
"I've recommended them in the past and will continue to do so in the future. They've earned a lifetime customer in me. Can't thank you guys enough!"
view this letter
all letters