Factors to Consider When Buying an SD or MicroSD Card
Don't you love clicking pictures and recording videos? We all have thousands of pictures, videos, and audio clips that we want to cherish forever. Today's tech-savvy generation keeps several gadgets- smartphones, cameras, tablets, and more. All these devices store innumerable data and even if some have built-in memory, soon users start looking for ways to expand that storage. Hard drives, SSDs, USB flash drives, and SD cards are some of the most used options for storing or backing up data. However, of all the devices available, memory cards are most popular among users because of their portability, reasonable prices, and high storage capacity. From professional photographers to gaming enthusiasts, storage capacity is something everyone wants.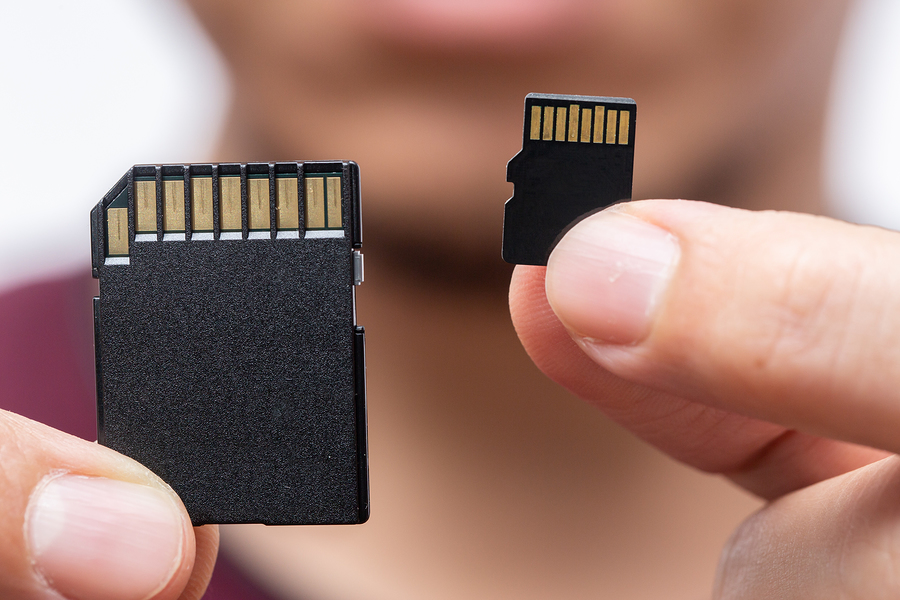 Memory cards- SD and MicroSD Cards are most widely used for expanding the memory of android smartphones and DSLR cameras. However, with technological improvement, several types of memory cards are being developed and you may find it challenging to select the right one. When looking to buy a memory card, you will come across some terms like type, speed, capacity, and more. Unless you're a tech geek, choosing the right type of card can be a challenging task. So, to make things easier for you, here we'll discuss what a memory card is and the factors to consider when buying a new one.
What is a Memory Card?
A memory card is a storage device typically inserted inside a smartphone, tablet, or any other gadget for storing digital media, such as photos and videos. Memory cards are available in several different types and each one varies in terms of type, form factor, capacity, speed/class, and brand. The most common memory card formats available in the market include SD cards, microSD cards, XQD, CF, and CFexpress.
Factors to Consider When Buying SD or MicroSD Card
There are very many different types of memory cards and choosing the right one largely depends on your specific needs. SD cards are non-volatile data storage devices that are used to transfer and store data from phones, cameras, and other electronics. It is a portable flash memory that uses solid-state media technology to reduce the risk of mechanical problems that are usually found in traditional hard drives.
SD cards (Secure Digital Cards) were first developed jointly by SanDisk, Panasonic, and Toshiba. All types of memory cards are small in size and SD cards usually have size 24.0 (W) x 32.0 (L) x 2.1mm (H). Traditional SD cards could store only up to 2 GB of data. So, to increase the storage capacity, new standards were developed and as a result, a newer generation of SD cards with higher capacities and speeds was introduced. When looking for an SD card, you will not find the original SD card because those are discontinued and replaced by the newer-generation SDHC and SDXC cards. Now that you have a basic idea about memory cards, let's move to some factors you need to consider when looking for the best MicroSD card or CF card.
Capacity
The main purpose of buying a memory card is to store data. Data storage needs vary from one person to another. For instance, the capacity requirement of a student may differ from that of a wedding videographer. A normal user looking to store photos and some video may find 32 GB or 64 GB sufficient. However, for professional photographers and users looking for higher capacities, there are cards of 2 TB. So, when looking for an SD card, first calculate the approximate amount of space you would need for your data. It is always best to get a little higher storage capacity to avoid running out of space.
Size
When buying a memory card, remember not all memory cards are compatible with all devices. You need to find out what type of card will fit your device to avoid wasting your money. Size is one of the most important factors to consider because if you get the wrong size, the memory card will not fit in your device. For instance, SD cards come in three different sizes. The biggest in size standard SD card is usually compatible with a digital camera while other cards like Mini and Micro SD cards are commonly used in smartphones or tablets.
Speed
For professional users, the read/write speed is a crucial factor because that determines the card's performance. Speed is not a major consideration for users looking to store photos. However, for professional photographers who need to shoot HD or 4K video, the speed of reading or writing data become important. Make sure to look for a higher speed rating which is mentioned as speed class or MB/s.
Card Format
As mentioned above, there are three different memory card formats – SD, SDHC, and SDXC. There are also other types of memory cards such as Micro SD cards, CF cards, Compact Flash (CF) cards, and more. When choosing the type of card, remember there is a compatibility issue. So, find out what format is supported by your device and then choose the right capacity and brand of that memory card. The latest version of the SD card known as SDHC has a higher capacity of 64GB while the SDXC cards (XC stands for extended capacity) offer up to 2TB capacity and superior transfer speed. A micro SD card is simply a smaller version of the SD card which is commonly used in mobile phones. CF card, on the other hand, has superior speed and high capacity that makes it perfect for cameras.