What is SSD? (Solid State Drive)
SSD (Solid State Drive) is a game-changer. In other words, it is the most common storage device today. You can find it in computers, notebooks, servers, NAS (Network-Attached Storage), and other devices. SSDs are faster and they are more resistant to physical shock than HDDs.
SSD is a non-volatile storage device that uses flash memory to store the data, they don't have spinning disks and movable read and write heads. SSDs run silently. In conclusion, all of these factors are relevant reasons to replace your old HDD with SSD (if possible).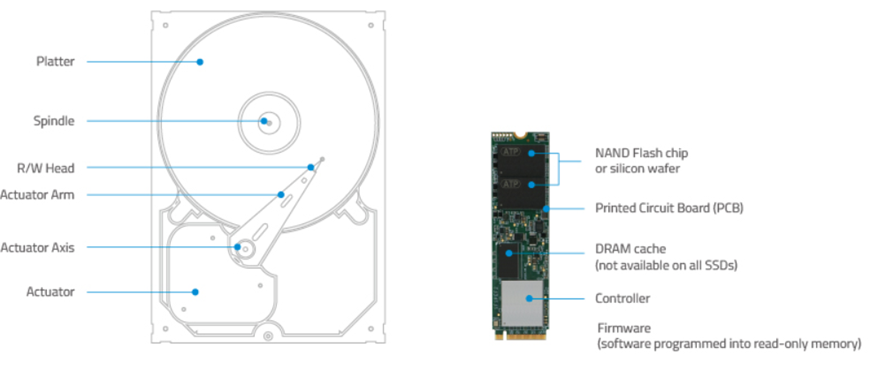 Title: Main components of an HDD and SSD
However, SSD has a limited lifetime number of writes. You can check the SSD lifecycle and health state by using the application provided by the SSD manufacturer (if the manufacturer doesn't have one, try third-party applications). For example, you can use Samsung Magician Software to check the health state of Samsung SSD. As shown below, you can how much data you have written on Samsung disks. In addition, to that, you can also have a look at the transfer rates.
Title: Samsung Magician showing the SSD status
The origins of SSDs dates from the 1950s. Firtsly, the storage manufacturer introduced the first SSD in 1991 with a capacity of 20 MB. Adn then around 2007, the first PCIe-based SSD was announced. Today you can purchase an SSD with a capacity of more than 10 TB. In the coming part, we will walk you through the different SSD types and we will guide you on how to buy the SSD that fits your need.
What SSD types exist on the market?
You connect SSD to your machine using a certain interface. These interfaces and/or disks are known as SATA and PCIe.
If you are running an older computer or notebook or other device, you can connect an SSD disk to a SATA interface located on the motherboard. The SATA interfaces are also used for connecting SATA HDDs (Hard Disk Drives) and SATA CD/DVD Drives. There are three versions available: SATA I, SATA II, and SATA III.
They support different speeds/transfer rates. The first generation supports 1.5 Gb/s transfer rates, the second generation supports 3 Gb/s and the latest one supports 6 Gb/s transfer. SATA disk has two SATA connectors. One is used for communication with motherboard and data transfer, and another is for power supply. For example, you could go with Samsung 870 EVO, a SATA SSD that supports up to 2 TB of disk space.
Title: (Left) The backside and SATA connectors of SSD Samsung 870 EVO and SATA cables (Right)
PCIe M2 SSD
As SATA was limited to 6 Gb/s transfers, the disk manufacturer decided to create an SSD that can connect to and use PCIe speeds. In fact, PCIe interface provides minimal latency, high bandwidth, and high performance. The interface is optimized for NAND flash and next-generation SSDs and can deliver four times the performance of SATA 6 Gb/s. This sounds impressive, isn't it? There are different form factors of PCIe disk such as M.2 NVMe, M.2 SATA, mSATA, and others.
Title: Samsung 980 PRO NVMe SSD 1 TB
PCI SSD
If you would like to replace your existing HDD or SATA SSD with a new SSD M.2 disk, your motherboard must support the PCIe M.2 interface. If it doesn't, you can purchase NVME SSD to PCIe 4.0 Adapter Card you install in the PCIe port. With this card, you can add an NVME SSD to your motherboard without M.2 slot. In most cases, it is plug and play PCIe adapter card.
Title: NVME SSD to PCIe 4.0 Adapter Card
What metrics are relevant for purchasing SSDs?
There are different factors you need to consider when purchasing an SSD. All in all, these are the capacity, read and write speed, performance, and vendor support. And the purpose is also an important metric. For instance, if you are looking for SSD for gaming, you need to buy a more powerful SSD. There are different vendors that make SSDs including. In summary, according to the market share from Q2 2021: "Samsung currently has a 24.4 percent market share in SSDs. Western Digital is second with 18.8% and Kioxia is third with 12.6%. In terms of storage capacity, Samsung leads with 34.9%, followed by Western Digital (16.6%), Intel (10.3%), and Kioxia (9.1 percent ). Seagate only excelled in overall unit sales (0.3%) and storage capacity (0.1%). (0.7 percent)."
Title: Total SSD Market share
What to do if SSD is faulty and you can't access it?
This could happen to anyone. You or someone else might accidentally delete data from your SSD. Or it could happen that your SSD is not operational anymore, and you can't access your private or business data. As, the recovery procedure is very much complicated due to fact that you might experience hardware (controller chip failure, electronic component failure, etc) logical problems (accidental deletion of data, firmware corruption, software errors, etc). Our team can support you in regards to recovering the lost data from health or failed solid-state drives. We are looking forward to addressing all of your data loss SSD-related queries. You can request a free diagnostic and evaluation link.