Which SSD Brand Is The Most Reliable?
If you're planning to upgrade from your old hard drive or need additional storage, then buying an SSD is the best option. In this article, we will talk about the most reliable SSD brands and will give you advice on how to choose one. With technological advancements and continuously dropping prices, SSDs have become the most viable data storage solution. SSDs are faster and more robust than regular spinning mechanical hard drives. These drives don't have an actuator arm and use NAND flash memory cells. With a good solid-state drive, your operating system will load at a blazing fast speed and all applications will have quick loading times. Moreover, SSDs are less prone to damages that lead to data loss. This type of drive can be a great upgrade for your computer or gaming console but choosing the right one can be daunting though. If you just starting to make research and would like to know what is SSD and type of SSDs exist on the market then read this.
With so many brands and models available, picking the right solid-state drive that suits your needs and budget can be tricky. SSDs come in different sizes and types, so you need to consider a few things before making a buying decision. First, you should understand that there are two different types of SSDs: SATA and PCIe. SATA is the traditional type 2.5in wide drives commonly found in PCs and laptops. The PCIe also referred to as NVMe and M.2, surpasses the performance of SATA. PCIe (PCI Express) is a much faster interface but you need to make sure whether NVMe or M.2 is compatible with your laptop. However, even if your PC's motherboard doesn't have an M.2 slot, there's an option to use a PCIe adapter card.
Products related to your search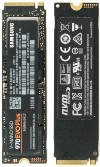 The Most Reliable SSD Brands
When looking for an SSD, you need to find a fast, durable, and reliable drive that fits your budget. When comparing different solid-state drives, tech geeks consider factors like P/E cycles, TBW (Terabytes Written), and MTBF (Mean Time Between Failures). However, if you don't know much about the technical details, here we've made things easier for you. In this post, we have compiled a list of the best SSDs available in the market to help you pick the right one. So, read further to find out the best SSD for laptops, the best gaming SSD, and the best budget SSD to choose wisely.
Samsung 970 Evo Plus: Best SSD
With 970 Evo Plus, Samsung has raised the SSD quality bar. This internal SSD with PCIe NVMe interface and M.2 form factor offers top-end performance. Samsung 970 Evo Plus comes in 250GB/500GB/1TB/2TB capacity with a 5-years warranty. It is one of the fastest drives on the market available at a competitive rate. The 970 Evo Plus is an improved version of the 970 Evo and has almost everything that you might need in an SSD. With a read speed of 3,500MB/s, ample storage capacities, and an onboard thermal cooling system, the 970 Evo Plus is one of the best solid-state drives. This fast and reliable SSD is a great combination of performance and affordability. However, on the downside, the drive's sequential write speeds may get slow under high load. Also, if you're not looking for a PCIe 3.0 model, then Kingston KC2500 can be more affordable.
WD Black SN750 NVMe SSD: Best Gaming SSD
When it comes to data storage devices, Western Digital is one of the most reliable brands. This PCIe Gen 3 x4 M.2 SSD is renowned for its spectacular performance. Western Digital offers some of the best SSDs and the WD Black SN750 can be remarked as the company's best gaming SSD. With insanely high random read speeds of 412.5MB/s, this NVMe SSD is the perfect choice for gamers. It is available in 250GB/500GB/1TB/2TB sizes with an optional heatsink. With this premium SSD, you would no longer have to deal with loading screens because it makes games load faster. This drive is a decent combination of affordable price and high performance but its hardware is the same as its predecessor. Also, the heatsink version costs higher.
Kingston KC2500 – Best Read and Write Speeds M.2 NVMe SSD
Kingston is one of the most popular brands for producing reliable data storage devices. The company offers some of the best SD cards, as well as other devices like SSDs and flash drives. The Kingston KC2500 M.2 NVMe SSD has excellent read and write speeds that owe to its superior hardware and software engineering. This internal SSD with up to 2Tb capacity combines top-tier performance at a reasonable price. However, its cost gets higher at each capacity level which makes it not the most economical option. The main attraction of this drive is its spectacular read and writes speeds (up to 3,500 MB/s read and 2,900 MB/s write). This means that whether you need to edit a 4K video or play games, the drive's incredible speed will process everything in a blink.
Intel Optane 905P & 665P: Reliable Performance
When looking for an SSD, don't forget to check Intel solid-state drives. This brand has some of the finest SSD models such as Intel Optane 905P, Intel 750 Series, Intel 760p Series, 665P, and more. Most of the NVMe SSDs are too expensive but the Intel 760p Series SSD comes with impressive performance and a low price tag. However, this may fall a little behind Samsung 960 Evo. So, for better performance, consider PCIe NVMe SSD 665P which is built on new QLC (quad-level cells) technology. Another great option from Intel is Optane 905P with 2.5in PCIe* x4 interface and up to 1.5TB capacity. It boasts excellent random read but costs higher than other similar SSDs.
Adata XPG SX8200 PRO SSD: Best M.2 SSD
If you're looking for performance within your budget, then this SSD is right for you. Adata XPG SX8200 is a PCIe Gen 3 x4 M.2 SSD with 240GB/480GB/960GB storage sizes. Whether it's performance, efficiency, endurance, or value for money, this internal SSD has it all. The Adata XPG SX8200 Pro has sufficient storage capacity and a maximum read speed of 3,500MB/s which makes it a suitable option for gamers or video producers. The drive's superior performance and the low price tag make it the right choice for almost every user. Its price to performance ratio is best as compared to other drives. However, its write speeds may not be the best.
Crucial P1 – Mid-range NVMe
When it comes to SATA drive, Crucial MX500 is considered the best option because of its decent performance and reasonable price. Another reliable SSD by Crucial is P2 that can be an affordable way of upgrading to an NVMe drive. This is not the fastest SSD around but can be suitable for everyday use. It is an internal, NVMe M.2 drive with up to 2TB capacity. The drive's sequential read speeds of 2,000MB/s and reliable performance may compete with expensive drives. However, don't go for it if you need an SSD for intense use.
Conclusion
Most SSD manufacture offers good products, so instead of focusing on the brand, check out the following:
1. You need to understand what type of connection your computer has. It can be NVMe or SATA.
2. What kind of tasks this SSD will do. For example running the operating system and other software, gaming, video editing, or other professional needs.
3. Your budget. Different brands offer different types of pricing depending on the performance of SSD, capacity, and the quality of materials.
4. Reviews of the product. It's always very helpful to check Amazon, eBay, and Newegg reviews and see what other user opinion about a product
Once you make a decision and buy the SSD you like, check out the article: tips to increase the life of your solid-state drive.